Alex Manly
Alex Manly is a professional cyclist who rides for Australia on the track and for Australian professional women's road team Mitchelton-SCOTT. She is a dual Junior World Champion on the track (Individual Pursuit & Team Pursuit 2014) and a Junior World Bronze medallist on the road (Time Trial 2013 & 4th in 2014). Her first year in the senior ranks saw her claim gold in the Team Pursuit at the Track Cycling World Cup in Cali January 2015. In 2018 she won gold at the Gold Coast Commonwealth Games.

Follow Alex on Instagram alexandramanly
Chelsea Pitman
Chelsea Pitman is one of the most experienced netball players in the world after playing for clubs in Australia, England and New Zealand. She currently plays with the Adelaide Thunderbirds in the Suncorp Super Netball competition. She is predominately a wing attack, but can also play goal attack. In 2011 she won the World Netball Championships in Singapore, playing for the Australian Netball Diamonds. In 2017 Pitman was selected into the England National Netball Team through her Yorkshire-born father and in 2018 won gold at the Gold Coast Commonwealth Games.

Follow Chelsea on Facebook pitmanchelsea and Instagram chelseapitman
Kate Moloney
Kate Moloney is an Australian professional netballer and captain of the Melbourne Vixens in the Suncorp Super Netball league. Kate made her domestic league netball debut for the Vixens in 2013 and was appointed captain of the team four years later. The midcourter led her Melbourne Vixens team to the minor premiership in her first year as captain. She also plays for the Australia national netball team and made her debut in 2017.

Follow Kate on Instagram katemoloney_
Kurtis Marschall
Kurtis Marschall is a bold new star of Australian athletics. Kurtis is a professional pole vaulter and won gold in the Men's pole vault at the 2018 Gold Coast Commonwealth Games. He was 7th at the 2017 London World Championships in only his second major meet. In Rio, he made his Olympic debut at just 19 years of age and off a short preparation. His idol is Steve Hooker, arguably Australia's best male field athlete of all time.

Follow Kurtis on Instagram kurtismarschall
Michelle Heyman
Michelle Heyman is a professional soccer player who starred in the Australian team, the Westfield Matildas, in the 2015 World Cup and 2016 Rio Olympic Games. Michelle is a key play-maker and striker for Canberra United in the National W-League. She was awarded the W-League Golden Boot and was named Julie Dolan Medal winner.
Follow Michelle on Twitter @Mheyman23 and Instagram michelleheyman23.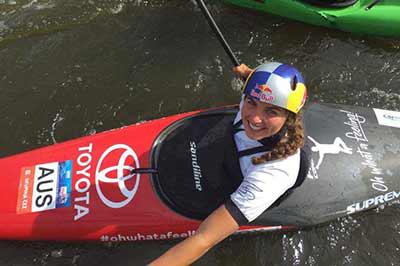 Jessica Fox
Jessica Fox is a double Olympic medal winning and world champion slalom canoeist. Born in Marseille in France, Jessica moved to Australia with her family at the age of four. She qualified for the 2012 Summer Olympics in London, where she made her Olympic debut winning a silver medal in the K1 event. She won a bronze medal in the same event four years later in Rio de Janeiro. In July 2017 she won her 11th world champion canoe slalom title and became the first woman paddler in history to win five elite world crowns.
Follow Jessica on Instagram @jessfox94 and Facebook jessfox.canoeslalom
Annette Edmondson
Adelaide-born Annette Edmondson is a cyclist who races on both the track and on the road for WiggleHigh5 professional women's cycling team. Annette won gold in both the Omnium and Team Pursuit at the 2015 Track World Championships. She won gold and silver medals at the 2014 Commonwealth Games in Glasgow and also competed at the 2012 and 2016 Olympic Games, where she won bronze in the women's omnium (2012). In 2018 she won gold and bronze at the Gold Coast Commonwealth Games.
Follow Annette on Twitter @NettieEdmo and Instagram nettieedmo
Mariafe Artacho del Solar
Mariafe is an Australian beach volleyball player. She was the U23 World Champion and is the current 2017 Australian Champion. Born in Lima Peru, she moved to Sydney when she was 11. Her first major international tournament opportunity came in 2007 when she was selected to represent Australia at the U19 World Championships in Poland. After winning gold at the Asian Continental Cup Final in late June 2016, Mariafe made her Olympic debut in 2016 in Rio. In 2018 she won silver at the Gold Coast Commonwealth Games with her partner Taliqua Clancy.
Follow Mariafe on Instagram mariafe_beach1 and Facebook @MariafeBeachVolleyballPlayer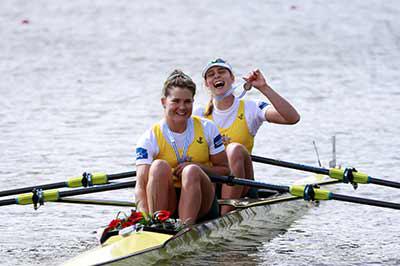 Olympia Aldersey
Olympia Aldersey is an Australian rower from Adelaide, South Australia. Born during the opening ceremony of the 1992 Barcelona Olympic Games, her parents named her Olympia. At age 15 she took up rowing. Olympia was crowned U23 World Champion in the women's quad sculls and has won Gold, Silver and Bronze at multiple World Championships in the double and quad sculls. She made her Olympic debut in 2016 in Rio competing in the Women's Eight and scull teams. In 2017, she was named in the Women's Double Scull for World Rowing Cups 2 and 3.
Follow Olympia on Instagram @olyaldersey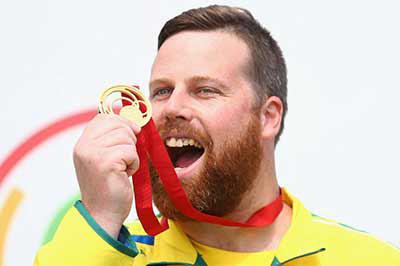 Dan Repacholi
Daniel Repacholi is an Australian sports shooter, from Victoria. He has competed at a three Olympic Games in the 10-metre air pistol and the 50-metre free pistol, debuting in 2004 at Athens at the age of 22. In 2010, Daniel won a bronze medal in the men's 10m air pistol at the Delhi Commonwealth Games. At the 2014 Commonwealth Games, he won gold in the 10m air rifle gold and bronze in 50m air rifle and in 2018 he won Commonwealth Games gold in the men's 50 metre pistol final.
Follow Dan on Instagram @bigdanreps
Tay Clark
Tay-Leiha Clark is a young Australian athlete and one of our rising Triple Jump, High Jump and Long Jump talents. At the age of 16 and the youngest in the field, Tay won the silver medal at the Youth Olympics for the Triple Jump. The 19-year old now is a full-time athlete working hard to develop her technique and strength, and be competitive at a senior international level.
Follow Tay-Leiha on Facebook @Tayleiha, Instagram @tayjclarkk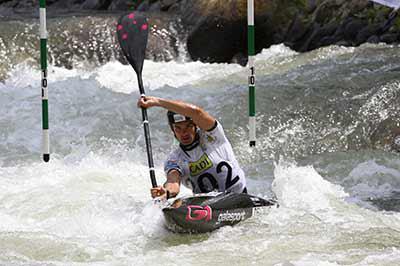 Lucien Delfour
Lucien Delfour is a French-Australian slalom canoeist born in Papeete, French Polynesia. Delfour started canoeing at age 8. He had his first international podium finish in 2006 when he won silver in the European Junior Championships in France. First representing France, Lucien moved and began representing Australia in 2010. He won several medals at the Canoe Slalom World Cup in 2012, 2013 and 2015 and competed in the 2016 Summer Olympics in Rio de Janeiro where he placed 17th in the K1 event.
Follow Lucien on Instagram @luciendelfour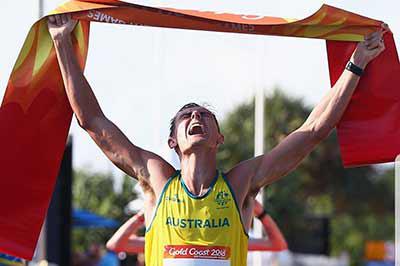 Dane Alex Bird-Smith
Dane Alex Bird-Smith (aka TheBirdman) is Australia's famous racewalking athlete. He competes in the 20 kilometres race walk where he is the Australian and Commonwealth record holder. Dane competed at the 2016 Rio Olympics, where he was bronze medallist. He has represented Australia at the World Championships in Athletics three times (2013, 2015, 2017) and in 2018 he won the gold at the Gold Coast Commonwealth Games in the 20km walk. He is also the son of former Australian Olympic walker David Smith.
Follow TheBirdman on Instagram at dbirds92 and Facebook at DaneTheBirdman.