How can I Sleep Better when Pregnant?
Trying to sleep when you are pregnant, especially as the baby grows bigger and your belly becomes less manageable, can be extremely difficult. At the same time, this is one of the most critical periods of your life, one where you need to be getting as much quality sleep as you can, which makes it vital that you do everything you can to sleep well.
---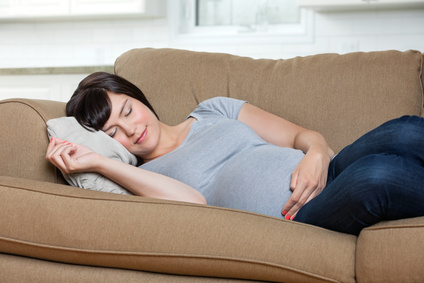 Sleeping while you are pregnant is problematic for a number of reasons. In the first trimester you will struggle as your body chemistry is undergoing massive changes and even if you don't suffer from bad morning sickness you may struggle to sleep as your heart beats faster when you are pregnant which in itself can make sleep difficult. As the baby grows, the size and heat of your tummy and the pressure of the baby on your bladder both make sleep even more difficult.
It is not only physical changes that will lead to trouble sleeping. As you are carrying your child you will have a number of other concerns as you approach a massive life change, and often the physical and psychological stresses combine to push sleep further out of reach.
While it is more difficult to sleep when you are pregnant it is also one of the most important times in your life for getting quality sleep. That is why it is essential that you, and your partner, do everything you can to ensure you get the best night's sleep possible.
There are a number of things you can do to help. First, you need to make sure you have a good bed and mattress as this can make a huge difference. Sleeping on a substandard mattress is bad enough when you are not pregnant but when you are pregnant it magnifies the existing problems with the mattress. Get a good quality mattress, such as a memory foam mattress, that is able to mould itself to your body, providing the necessary support for your growing tummy.
Another thing that you can do is adapt your sleeping posture so that as your tummy grows you are ready to sleep in a way that is comfortable. If you sleep on your side already then you are lucky as this is the optimal position, but if you sleep on your back or your front you will soon find those positions are not great when you are heavily pregnant. Start early so that you are used to sleeping like that when your bump is bigger.
You should also develop a relaxing sleep time routine. It may be that you like listening to music, having a bath or reading your book before bed. Whatever works for you, as long as it is soothing and not stimulating and you can do it every night. Having a good routine before bed makes falling asleep a lot easier.
---
Make sure you have a good quality bed as a bad bed's problems will be magnified when you are pregnant.
Try to adjust your sleep posture before your belly grows.
Develop a relaxing bed time routine.
---
It is important for you and your baby's health that you sleep well when you are pregnant, following these tips may help you sleep well during your pregnancy. Catch up while you can as once the baby arrives, sleep may well be on hold for the first few months at least!